Pictures inspired by nature and the beauty of God's creation.
Nature has always fascinated me. The detailed features of a flower are mindblowing and the endless variety of shapes and colours just spark my immagination and creativity. The same goes for trees.
And then there are certain animals I will always go back to because their uniqueness symbolizes different aspects of life and portrait parts of our dreams and aspirations. 
Horses stand for elegance and power.
Hummingbirds for being mesmerizing and special.
And all kind of African wildlife as they give us a sense of adventure. 
Acrylics and oil on Canvas
Size: 50 x 100 cm (20 x 40")
Price: 590,00 €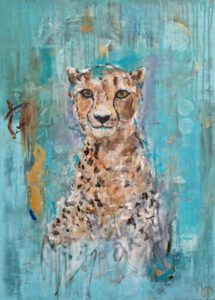 Acrylic on Canvas
Size: 50 x 70 cm (20 x 28")
Price: 480,00 €